Every author has different needs in the look, process, and budget of their cover design, so I've created four staged options to suit a wider range of priorities. If you're not sure which custom book cover design package best suits your project, please don't hesitate to contact me with any questions. Below are a few examples of designs from past projects and my premade book covers collection broken down into the custom design packages where they would belong, based on the work needed to produce the final image.

Jump to a category
BASIC UPGRADE DELUXE GRAND

Basic:
Authors on a tight budget will likely find cost-effective Basic the preferable custom book cover design package. Here, the primary focus is finding the right imagery for the strongest impact. I search out stock art that needs little to no image work and offers ample available space for text placement. This allows us to dedicate more time to the initial creative decision process and revisions, with an emphasis on critical visual elements like font selection, layout, and styling.
The examples above typify the strategy of creating a stylish, engaging book cover design without using collaging, masking, or other time-consuming production tasks. Each of the base stock art images already has strong visual impact with either: (1) existing open space for text and titling or (2) a simple background that can be easily extended with Photoshop tools to appear seamless.
No Halo Required started out as a premade cover, which was lightly altered to suit the author's book. The original font was changed to one with a more classic look and a Q with a tail to accommodate the addition of a dangling gold halo. [A before-and-after image can be viewed in our Portfolio.]

The second set of Basic examples show some minor photo edits and enhancements that still qualify for that category.
(Not a) Good Girl also began as a premade cover. For the original construction, a minor amount of masking was needed to clean up the backdrop and some smoky elements were added to create the framing effect. [A before-and-after image can be viewed in our Portfolio.]
Carriers, a premade ebook cover which is still available to purchase, required only the spot coloration of the model's eye, so easily qualifies for the Basic category.
Masquerade, also a premade ebook cover which is still available to purchase, includes an added blood droplet, as well as a lightly modified vector ornament, so is safely within the minimal editing requirements of a Basic book cover.

In this selection of Basic examples, we have a few more minor edits and enhancements that would still be considered within the category.
Elemental Mode, a premade ebook cover that is currently available to purchase, includes basic ice and fire texture elements to give more impact to the title and better tie into the visual theme.
For Skinnydip, a premade ebook cover that is also available to purchase, a few small cuts of the bikini are pasted and masked above the title to give the impression that the text is etched into the wood base.
In the case of Moon Age, another premade ebook cover that is available to purchase, what appears to be multiple images of moon stages is pulled from a single vector set, and the starry night sky is an image general enough that even if we don't have it in our image library, it's very easy to find the right stock, which would be added to our library of often-used textures and backgrounds.

Return to the top of the page

Upgrade:
Upgrade is the custom book cover design package that balances more detailed image work with affordable budget. While the freedom for stock, editing, and effects is wider than Basic, the focus remains on selection, revision, and simple image masking and manipulation with well-placed high-impact upgrades. Model setting and pose selection is more open, since we have more project time for search, masking, and effects.

This sample array shows a few of a ways that how we use vector art on a cover can determine its category.
The Snake's Canyon Caper started as a premade cover, which underwent a few major changes to suit the author's book. The original font was enhanced to add more colorful punch. More importantly, the author had very particular specifications for silhouette selections of her main characters that required a more detailed search and purchase of multiple pieces of vector art, which would elevate a Basic project to the Upgrade category. [A before-and-after image can be viewed in our Portfolio.]
Southern Harm, a custom-designed book cover, is another good example of how a borderline Basic cover can become Upgrade. While we'll usually include a common backdrop in Basic covers using isolated vector art, the author wanted to reflect a thematic story location, so we took the time to find the right image to set the stage for his characters. Also, since the cover is part of an existing series, we needed to find art of the couple that coordinated with the other covers' illustration style. We found a suitable fit, but the original art needed extensive edits to make the models' appearance jive with the book's characters.
Dangerous Game, a premade ebook cover that is available to purchase, could've been considered a Basic cover under different circumstances. But the "simple" backdrop we wanted didn't exist, so we had to build it from multiple skyline graphics. While that, alone, might not elevate the category, the vector art of our heroine was made in a way that we couldn't drop the background, and we had to mask her out by hand, as well as do some edits to the art.
Cape & Louboumachins also started as a premade that might've qualified as a Basic cover — with only a lace texture applied and masked over the base image. To suit the author's story, we edited out the middle dress and drew a cape by hand, as well as adding layers of highlight and shadow to mimic the original art, plus searching for the right vector art of stylish heels. [Its before-and-after images are also in our Portfolio.]

Come Back to Me, which started as a premade cover, used extensive masking to create the stark contrast of blood running down the model's face against the desaturated original image.
Orb of Power, a premade ebook cover that is available to purchase, includes masking to make the model's backdrop more subtle and extensive hand-done smoke and streaked light to create the magical effects emanating from the glowing orb.
Supernatural Hunter, also a premade ebook cover that's currently available in our Fantasy premade book cover collection, required some edits to the model and detailed masking to add a cemetery and mausoleum backdrop, plus includes custom-designed ornaments.

In this array of Upgrade examples, the additional work might not be as obvious at first glance, but was included to enhance the overall image for a more streamlined and professional look.
Gretel, a premade ebook cover in our Luxe premade book cover collection, used enhancements to the original image, as well as a multi-layered custom frame element.
Sonata, a premade ebook cover that's currently available, utilized numerous pieces of stock art layered and masked to create the finished complex image.
My Summer Romance, a premade ebook cover in our Romance premade book cover collection, required extensive image editing of the pool, deck, and models to create the clean cover image.

Return to the top of the page

Deluxe:
Deluxe takes the design and effects options of the Upgrade package and cranks them up to eleven. We can bring in multiple stock pieces, use extensive collage and masking, and even add some image editing and minor retouching to achieve just the right cover image. There are virtually no limits, and we have much more work time to create the polished professional look your book deserves. Several of the examples shown are among the very first premade covers we made for the site, so are priced extremely competitively at steep markdowns from the cost of the work and stock to produce them.

Forest Queen had an original stock photo with a stark white background and the model's black hair blowing. To blend into the tree-branch backdrop, the background needed to be masked out and then locks of hair thickened and rebuilt. The model's curls and flyaways over her clear skin areas and eye also required additional retouching to get the final streamlined image.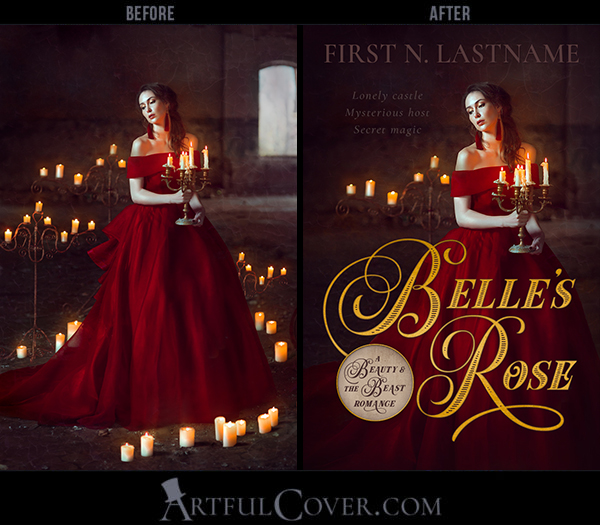 Belle's Rose started as an excellent potential stock image with way too many distracting elements for a cover. So a bunch of candles and a candelabra needed to be edited out, then parts of the remaining candelabra had to be repaired. Also, large sections of the floor had to be rebuilt while keeping the cobwebs and pattern seamless with the original image. Plus, the fussy silhouette of the model's skirt had to be rebuilt for a smoother, cleaner shape. As one of our original premade ebook covers, it's available for purchase at a fraction of its value.
Legendary Sword involved masking, image edits, multiple layered textures, and text effects. In addition, all the ornaments were custom made to suit the theme.
Tonight We Ride in Hell used masking to isolate the model, some image editing, as well as layering textures and smoke effects to create the backdrop. Numerous vector files were searched out and edited to create the custom ornaments and motorcycle gang style series logo.
"Girls" Rock required a lot of searching to find appropriate stock photos to stand in for the band members, especially those with instruments, and each needed detailed masking and effects to complete the image. Additionally, several images were combined to create the backdrop.

Return to the top of the page

Grand:
Grand is the custom book cover design package where I read your book and then we go bonkers with creating a complex image from however many sources we need to get the exact look we want. Masking, effects, and manipulation are largely included, as well as light retouching and all the tweaking your painstaking heart needs to declare it a finished cover. While extensive manipulation, large-scale pixel-surgery, and detailed retouching are limited, if more is needed, any added-work estimates are bid at a half-price rate.

Ophelia Rising, a premade ebook cover that's currently available in our Luxe premade book cover collection, involved image editing, text effects and accents, custom background and texture, as well as custom-built metallic frames. We also found images of the flowers depicted in the stock photo, masked out the background, and colored them match.
Locus of Control required searching several stock agencies to find models who fit the description of the book's main couple, then masking and editing the closest models' photos. We adjusted clothing colors, added the grit and wear of a ten-year zombie apocalypse, and changed a black gun to silver — and even changed the position of one model's leg. For the backdrop, we used a desaturated photo, did some strategic edits, and then used multiple colorized layers masked in fine detail to restore color to each of the buildings individually.
Losing Control, the sequel to Locus of Control, incorporated numerous elements which required detailed scanning through several stock agencies to find the perfect photos and vector art to recreate a pivotal location of the story, as well as finding the right model to portray a new main character. We started with a photo of a lonely road passing through run-down abandoned buildings. Next, we found an ominous sky and did detailed masking to fit it into the scene. For the security fence, we found vector art of a chainlink fence and coiled barbed wire and edited them to blend into the scene. Most importantly, we scoured stock for the right images of piled-up cars to build the "wall" around the fortress city, and added multiple layers of hand-colored grit to mimic the dirt, rust, and decomposition of a decade's weathering. For the main characters, we did masking, photo edits and light retouching to subtly reshape features, plus removed distracting stripes from the teen's t-shirt and changed its color to better suit the overall image.
Adrift and Afloat, two covers in a trilogy of mermaid themed premade ebook covers that are currently available in our Luxe premade book cover collection, use vector art colored in with added metallic accents to create the mermaid figures. Multiple textures and starry accents are layered for lush water and sky themed backdrops. Gold accent ornaments are used to build turbulent waves and a classic pillared platform. And the letters of the title are custom accented with gold ornaments edited to perfectly suit their shapes — which will be redone to match the title of the author who chooses these designs.
Return to the top of the page
Between the Lines?
While most projects will easily fit into one package, some might need just a hint of an extra touch to make it perfect. If you think your concept might step a toe over the border, more detailed image work or extensive image searching can be bid on a per-hour or per-project basis to allow the most cost-effective final cover possible.
If you have any further questions about a custom book cover design package and general estimates for minor add-ons, please see the FAQ page or contact me.
Want to get started?
Submit your Custom Book Cover Design request form (below) now!